Students! Did you do your profile survey? Check your email for a chance to win a £20 voucher and tell us what you think now!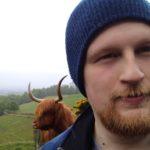 Hello everyone! I've had some time to digest and reflect on a whirlwind two weeks. I'm so happy I decided to enter the I'm a Scientist event, it was amazing to be able to chat to so many bright young students, and I have no doubt that they will all go on to do well in the future. Thank you to the team who organised this event — both the organisers and chat moderators kept things running smoothly and ensured that it all went off without a hitch.
The past two weeks have given me some of the most rewarding and enjoyable conversations I've had to date. Having the opportunity to engage with so many students (and teachers) took me back to when I was a young student at school, wondering what my future held and whether I'd be "good enough" to do the things I wanted to do. I empathised with many of the thoughts and emotions that were present in the many live chats we had — the future can seem quite daunting when you can't find the answers to a myriad of questions. Speaking of, the diversity of questions was incredible! I've been asked what a black hole is, how many tennis courts the lungs of a blue whale would cover, whether Megalodon could still exist, and many more questions besides!
A common theme I found over the fortnight was that students were sometimes surprised but happy to learn that we're all just normal people with hobbies and interests outside of science. It's a really important thing to break down any barriers between young students and their future careers, and I think the I'm a Scientist event really helps to do that. I would like to reiterate some advice I gave to a few similar questions concerning what you "have to do" or "have to study" to be a scientist. My answer is this — do what interests you! Find something you really genuinely enjoy studying, and you'll never work a day in your life. Your future is your own to mould in whatever way you see fit, so if something really interests you at school, grab it with both hands and run with it! Just don't be afraid to stop and ask questions every once in a while.
I'd really recommend the I'm a Scientist event to both students and scientists. It's a wonderful feeling to be able to engage with young students and answer some of the questions that you might have had yourself, years ago. My working environment at the University of Stirling is really positive and encourages personal development on a number of levels. I found out about this event through a colleague of mine who took part (and won!) a couple of years ago. It goes to show that surrounding yourself with a positive environment and positive people is really worthwhile.
If you're reading this and still undecided — go for it, and help to inspire the next generation of young scientists.
Scientists! If you'd like the chance to win funding for your own public engagement work, apply for the next I'm a Scientist, Get me out of here: imascientist.org.uk/scientist-apply