Profile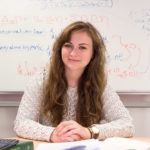 Hayley Wragg
Curriculum Vitae
Education:

University of Bath (2016-Present), University of Sussex (2012-2016), Westcliff-Highschool Sixth form (2010-2012), FitzWimarc Secondary School (2005-2010)

Qualifications:

Masters in mathematics and working towards a PhD

Work History:

University of Sussex, Lighthouse Financial Advice, University of Bath (with BT)

Current Job:

PhD researcher

Employer:

I work in the University of Bath but my research is also funded and supervised by BT.
Favourite thing to do in my job: Hear about new developments in peoples research.

Read more

I live with a housemate just outside Bath. My journey to work is slightly longer but I like where I live because it's close to lots of nice footpaths to go for walks and runs.

My favourite TV series are Red Dwarf, Firefly and Only Connect. I attend a pub quiz every week, (we won once!).
I used to play rugby but due to time and injury I now run. I recently completed a half marathon, raising money for mind, it was really tough but the challenge has driven me to want to run more.

I'm a vegetarian and I try to live my life as zero waste as I can. My favorite meal is Tofu stir fry.

My Work

Mathematics research - Modelling wifi

Read more

My work includes hand written work to investigate the mathematics, writing code to simulate the mathematics and sometimes working in a lab with engineers to investigate the parameters of the model. I also attend lots of seminars and conferences to hear about the new developments happening in applied mathematics.

I also teach undergraduates and often get to go to conferences to present my work.

My Typical Day

The days vary a lot! - A normal day in the office would include some coding and some written maths.

Read more

A normal day in term time would feature a few hours working on code, a few hours working on written maths and a hour either in a research group meeting or a seminar or teaching.

However some days can be full of meetings and talks and some days feature none at all! There's also the days in the term when I have to do marking.

My favourite days are conference days because it involves talking about new and exciting maths all day!

What I'd do with the prize money

Support the Bath mathletes outreach group.

Read more

I'd like to use the money to go towards new resources for the University of Bath Mathletes outreach team.

My Interview

How would you describe yourself in 3 words?

Enthusiastic Applied Mathematician

What's the best thing you've done in your career?

Travelled to Montreal to work on the maths behind taking pictures of the eye.

What or who inspired you to follow your career?

My mum and my secondary school form tutor.

What was your favourite subject at school?

Mathematics (most of the time, I liked Physics and Art a lot too).

What did you want to be after you left school?

Anything that would let me do as much mathematics as possible.

Were you ever in trouble at school?

Sometimes for chatting but not a lot.

If you weren't doing this job, what would you choose instead?

Maybe an architect.

Who is your favourite singer or band?

At the moment "Obviously Kirsty".

What's your favourite food?

Tofu stir fry

What is the most fun thing you've done?

Camping and Hiking in Norway

If you had 3 wishes for yourself what would they be? - be honest!

Continue to work in a job I enjoy, Inspire future mathematicians, Run a marathon.

Tell us a joke.

I had pi for lunch and now I'm feeling all irrational.
---
---