Profile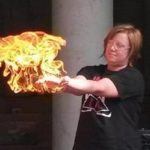 Melanie Hannah
Curriculum Vitae
Education:

Bablake School , Coventry 87-94 Sheffield Hallam University 95-00

Qualifications:

2:1 BSc (Hons) Applied Chemistry A level Geography E, A level Chemistry D

Work History:

University of Sheffield, Chemistry, Research Technician. Promar International, Laboratory Technician ( animal feed testing ) British Glass Laboratory Technician (quality cocntrol of raw materials for glass making, and finished products)

Current Job:

Technical Manager, Biomedical Science

Employer:

University of Sheffield

Western Bank

Sheffield

S10 2TN
Favourite thing to do in my job: Employing apprentice technicians, and helping them to acheive their jobs beyond their apprenticeship

About Me

I enjoy all things scientific and mechanical, love taking things to bits, and seeing if they fit back together!

Read more

After not completing my A levels I dropped out, and worked in a variety of jobs that didn't satisfy my curiosity. After a year I decided that I had enjoyed lab classes at school, so wrote to all the local laboratories to see if they would take me on as a trainee. I got 2 interviews, and started at British Glass, testing sand to see if had coloured impurities that would make the glass a different colour. I have trained hard, studied part time, with 2 jobs ( I used to announce the races at the greyhound track in the evenings!) and am now a manager of Biomedical Science, at Sheffield University. We have over 750 students, and 40 lecturers, all working towards understanding the human body through development and disease. I am married with 2 kids and a cat (although the kids would prefer a dog), and I still have a second job, where I develop science demonstrations for TV and live stage shows. I've worked with the BBC, and Fran Scott, and have travelled over the world to deliver engaging science activities to young people, to inspire them to follow their curiosity.

My Work

Making sure the scientific equipment and the technical staff are able to deliver world class research results and teach up to 750 students

Read more

An album of photos relating to my work

I manage the technical aspects of Biomedical Science. The team of technicians that I manage range from apprentices that are training to be teaching technicians, to technical specialists who may look after just a single item of equipment, eg an electron microscope. It is up to those staff to make sure that the equipment is in good working order, that it is calibrated, and giving accurate results. They will train the students in how to use the equipment, and how to interpret the results. I have to ensure that all the staff have the right level of knowledge about the subject, and also that they can communicate well with people of different backgrounds and different levels of experience. Often my team will look for innovative ways to deliver teaching, eg 3D printing of molecular structures, or virtual reality practical techniques, and I encourage them to research better ways of teaching our students. I encourage and support my team to become professionally registered, as this is the standard to which apprentices will be taught. I also have to ensure that the building is in good condition, that the laboratories are run safely and comply with all of our legal obligations. I manage the financial budget for maintenance of the 7000 items of electrical equipment that we have, and for replacement of broken equipment.

When I get the opportunity to develop some activities for schools, ( usually called outreach activity at University) I love to get away from my desk, and I work mostly with Dr Nate Adams ( he is in the fire video) to develop exciting and safe demonstrations that we can take out to schools or festivals and exhibitions to encourage all young people to follow a career path into STEM

My Typical Day

I meet with my team, spend some time on safety requirements, then arrange testing/maintenance of equipment and plan the technical team duties

Read more

https://photos.app.goo.gl/CcUetqarHvCwwAXy8

A couple of the photos in the album show a piece of plastic in close up. I had to take these photos as the research scientist needed another of these items building. It was really interesting as they have genetically modified the fruit fly so that they have alzheimers disease. The flies are put into the tubes, and then the amount of time it takes to climb up the side is taken. The older flies take longer and this information can be used to understand how the disease progresses, and therefore how we can halt or even reverse those changes.

I took careful measurements and lots of photos, and one of  the technicians was able to reproduce the equipment.

This is a typical example of the type of job I could be asked to do.

Some of the more mundane tasks involve record keeping for health and safety – as we have genetically modified flies then there are a lot of rules about ensuring their well being, and ensuring they don't escape

I included some photos of more boring things, like the recycling of the glass bottles, a vacuum pump, and some labels, to show that it isn't all exciting stage work every day.

What I'd do with the prize money

One day workshops in the lab, getting hands on with Biomedical Science

Read more

This is a photo from our work experience program for Y10 pupils. I would like to use the funds to develop a one day workshop that pupils could come and try out a real University laboratory, with all the equipment, get some hands on experience and learn some lab skills, before GCSE options are made, so that you can get a real idea of what sort of skills are required to be a scientist. I would ensure that the activities are the types of tasks that a technician would have to do, so that I could showcase that technical careers are brilliant and worth considering as part of your career choices.

My Interview

How would you describe yourself in 3 words?

Curious, determined, Supportive

What's the best thing you've done in your career?

Contributed to the development of contact lenses that have medication embedded in them. This can prevent blindness from treatable causes in remote areas of the world

What or who inspired you to follow your career?

Helen Sharman

What was your favourite subject at school?

Geography

What did you want to be after you left school?

Environmental Health Officer

Were you ever in trouble at school?

yes - I talk too much

If you weren't doing this job, what would you choose instead?

Teacher

Who is your favourite singer or band?

Red Hot Chilli Peppers

What's your favourite food?

Chips

What is the most fun thing you've done?

Worked with Fran Scott and Dick and Dom on live science stage shows

If you had 3 wishes for yourself what would they be? - be honest!

To be better at driving, to be bolder/more adventurous, and to travel more

Tell us a joke.

What is the quietest insect in the world? A mumble bee!
---
---